I have a local soil supplier near me and I cannot figure out which product is best for increasing the oragnic material content of my lawn. I tried speaking with someone but got more or less "anything we sell will help" response.
Here is my soil report from Apri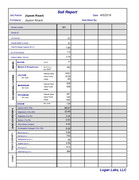 I got some outstanding direction from Andy in June and have been fertilizing at high bag rate 15/15/15 every 30 days and laid down gypsum every 60 days. I will continue this until my next sample in Spring 2020
My plan is to top dress with 4 yards (1/2 inch coverage on 4k lawn) of either:
100%mushroom compost
50% mushroom compost + 50% biochar
90% Canadian Fir + 10% manure (this was what was suggested by the person I spoke to on the phone)
70% vigin soil + 30% compost (this product can be had in any variation from 70/30 to 50/50)
The company's website is here:
http://eastmansoil.com/home/1880726
Last bit of information is that I want to over-seed after applying the topdressing. Not sure how long I would need to wait before doing this.