Hey all,
Decided to get a soil test done, A little late than never..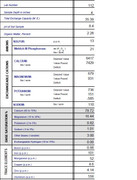 10,540 sqft lawn space, new home construction 5 years ago, irrigation installed 3 years ago. Had a service doing fertilization for 4 years, this year decided to stop and start a hybrid program after starting to read up on ATY. I knew I had compacted soil as the soil cracks (1/2" irrigated areas when bone dry, 3/4" - 1" where there is no irrigation which is where neighbor does not have irrigation and wooden fence).
Sunny expect for 1K mostly shade
TTTF/NoMix lawn
bumpy yard, will be using top soil or top soil/compost blend (70/30) to level before overseed in August (thoughts/suggestions?)
Shallow roots, I finally succumbed and did a Tuna (well chicken, do not like to eat that much tuna) can test this year and lawn is evenly getting 0.5" per hour throughout. Squeeky sound after watering 30 minutes 2x with a 1hr window between sessions.
Started BLS treatments last month 4oz/k, was originally planning once a month, but might move that up to Bi-weekly treatment.
Front yard and back yard center sections both goes dormant real quick. Lawn thins out in sunny areas when weather gets up there, but returns 90%
I know I am low on my nitrogen feeding as the grass goes lighter green 2-3 weeks after spreading 1lb/k nitrogen.
Looking for best suggestions, and am willing to take on Micros if needed. I know Organics need to go up and will supplement mulch mowing with the addition of compost by mean of trying to use the peat roller? Question is that if I start now, will that pose challenges when I try to level before the overseed?
Also just for my knowledge I did have Logan do a Physical Analysis and it came back 46% Clay, 45.9% Silt, 8.1% Sand. Results Silty Clay... I can provide Sand Fractions if needed.
Thanks in Advance!