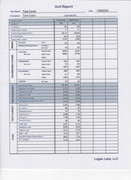 Hello All,
A few months ago I had the worst grass in the neighborhood and decided it was time to do something about it. So I searched online and found this wonderful sight. I have been fixing my yard now with the useful information I am learning from you guys. I'm totally addicted now! I'm reading this site day and night. I went from not really caring about the yard to now I'm out there all the time doing this and that. Applying BLSC, Kelp Help, pulling weeds, mowing twice a week, etc. My wife and kids are jealous of all the time I spend on the grass. They say "Where's dad, Oh he must be hanging out with Grassy." Not a very cool name, I know… But Grassy is what they came up with.
I first started with 2,4,D killing tons of dandelions. I have applied 15lbs/K of Soybean Meal and Alfalfa twice and Urea 1lb/K twice. I'm ready to take my yard to the next level, so I got a soil test done by Logan's Labs. It's Common Bermuda. I got 2 soil tests because the backyard is struggling worse than the front. The Bermuda in the back doesnt grow much. It's about 1/3 crabgrass in the back and that grows great. The front is looking fairly decent now and that is what has started my addiction. The organics, watering 1" a week and mowing twice a week has really improved the front. I see pictures of some of your yards and they are pretty fascinating. I didn't know yards could look like that! I am going to try to reach that level one day. I'm all in now! So I'm a novice but I'm okay with learning advanced techniques.
I look forward to learning more and hopefully one day contributing to others. I'm excited to see what you guys could tell me about the tests, if you have time to look them over. Thank you so much!
6000sqft Front
5000sqft Back