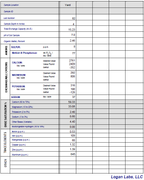 Hi Morph and Andy,
I am later than I would like to be with posting this year's results, but please find them attached. Here's a link to my 2021 results thread:
viewtopic.php?t=26581
.
In mid-April this year, I sampled and received my test results. After conducting the sampling, because I had some leftovers from last year, I went ahead and just put down the 1 leftover application's worth of Sta-Green Fast Acting Gypsum at 5 lbs/K ("heavy" bag rate) in mid-April this year and 1 leftover application's worth of 19-19-19 at 5 lbs/K in early May this year.
Same basic details this year as last year:
• Lawn size: 1 acre (only 2500 sf front yard, rest the back yard)
• Irrigation: front yard irrigated, back yard just rainfall
• Goal: continue best practices to gradually improve my soil and lawn, but am still thinking of holding on micros for now until I've accomplished more with the rest of my soil remediation plan.
Last year, I completed the following from my soil remediation plan:
• Sta-Green Fast Acting Gypsum: 2 apps at 5 lbs/K ("heavy" bag rate)
• 19-19-19: 3 apps at 5 lbs/K (spaced at least 2 weeks from the gypsum)
Since beginning to work on this yard in 2020, the color has improved. It's still not as dark as I would like, but I understand I have some limitations here due to certain characteristics of my soil. The grass was pretty good thickness-wise when I started with it in 2020, but I feel like that has further improved and some existing bare areas have pretty much filled in. Thankfully, no significant disease issues. I planted some more things this year, and I feel like the soil was easier to work this year than when I started planting things in 2020.
Looking forward to your thoughts on how my soil's coming along and how you think I should tackle the rest of this season. I really appreciate your time and help!