Ok! Here I am sneaking in on the last day before interpretations for new members start.
Here is last year's thread, in which the Front (including side lawn in 2018 and prior), Back, and Low-input area (as a whole--see below) were tested. I don't feel the need to test the back this year:
viewtopic.php?f=11&t=23938&hilit=green+tests
My 2019 results
: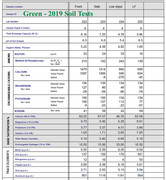 So, here's the background this year. I have 4 tests this time, but there's a method to the madness, and I hope I never need 4 again:
1.) I decided to test the side and front separately this year rather than together as I've always done. Just doing this because I had a more difficult time growing grass on the side during the heat of the Summer, and wanted to see if there was anything special that area needed.
2.) Due to strange test results last year in the low-input area, as well as what appeared to be different soil types in different parts of the area, I decided to split it into two tests, "Low Input" and "LF". "LF" is the area that's flood-prone and prone to ponding, and I'd like to start fixing it this year to reduce the amount of time the water sits. It causes stunted grass in the warm weather, and Winter kill from constant ice in the Winter. There is next to no grass left there, now.
The OM is apparently extremely low in that area...but...I can't just mulch mow leaves into it anymore...it exacerbates the issue with the drainage. My thinking as to why, is that there appears to be an organic layer in the top inch or two (very dark brown soil--hoping it's not an anaerobic black layer), but at the 4-inch depth where I tested, it's a lot of orange sand that acts like a clay. Weird, right? What I'd like to do, is to help encourage the organic upper layers to penetrate and mix into the sandy layer below. I think that's why I have the drainage issue; the upper layer is staying on top due to poor soil structure. I'm also strongly considering applying a very light topdressing of locally-sourced (CT-derived) mason sand mixed with a little peat moss on top before reseeding to help with the firmness of the ground. The sogginess situation is that bad! And if there's anything that I can do with other amendments based on the tests that would help out, I'm all for it. At this point, I'm looking to seed in early August.
Also, what to do about the still-high exchangeable Hydrogen in the greater low-input area?
Thanks, Andy!