I have 27k sq.ft. of common bermuda/yukon bermuda in Nashville, TN area. Use a rotary mower trimmed to about 1.75in weekly. No irrigation but can lay out hose/sprinkler/timers to cover whatever is necessary. Really only irrigate if I have applied something or if we haven't had rain in a long period and grass shows signs of need. Some bare areas of soil in yard get black/green slime after heavy rains. (read somewhere that spraying with peroxide and water helps?) After using last years recommendations along with a lengthy reseeding period, most of the yard is looking pretty solid. There are still several thin areas and some completely bare (either shaded or where dogs pee) spots.
My goal this year is to improve the density and fill in the bare areas. I'm also stumped at what to do in shady areas. My pre and post-emergent herbicide treatments have rid the yard of weeds, which means the shaded areas now have no weeds, or grass. I would like best practices as well as fertilizer/nitrogen recommendation please. Would prefer slower release as it is difficult for me to water in quickly.
Here is a link to last years test and recommendations for reference:
viewtopic.php?f=11&t=23926
This year (2019) results: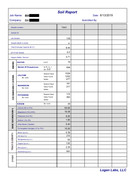 Thank you all so much for your help, time, and consideration. I look forward to hearing your thoughts.
-Bill