Hi, I'm back looking for help, primarily on the micros, after about 18 months off. I followed your advice in 2017, even though it looks like most of the micros have declined. I'm certainly very happy to take advice on the macros as well, in case my math is off.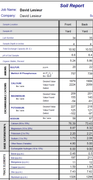 I was really down on my lawn this June with lots of poa annua in the back yard and lots of poa triv in the front yard. I started "year 3" of the constant Dimension 0-0-7 applications to control the poa annua, so my back yard featured a lot of bare spots (and lots of spots of poa annua that just won't die in the summer). After a hot summer with deep infrequent rainfall, I'm happy to report the triv looks as dead as it ever has in the 10 summers I've lived here, and the front at least looks great. When I started asking you for advice, and my TEC was really low, the 1" of water, 1x per week advice resulted in dead grass. This summer it's produced vibrant green grass. For sure not as nice as some of the posters on the site, but enough to make the visible part of my yard the envy of the neighborhood. Your recommendations are the reason, I'm sure. I'm also sure I haven't solved the triv problem, but I hope what comes back in the fall is a fraction of what I saw in the spring.
Since I took the sample, I put down about 3 lbs/K of the Dimension 0-0-7 (and also Milorganite). I plan one more Milorganite application around Labor Day weekend, which would be an ideal time to get down some micros (I have all four). Advice for next year would be great too if you're comfortable looking ahead.
Here's the link to my last soil test in 2017:
viewtopic.php?f=11&t=21887&p=300797#p300797
I have an additional question on Nitrogen application. Are there alternatives to M* that don't contain phosphorus? I have ridiculous levels, so it seems like a shame to add more. Years ago I could get Corn Gluten Meal pretty cheap from a local farm cooperative, but sadly that window has closed.