Folks,
Posting my soil test results for interpretation.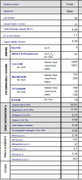 I had posted previously in the "Lawn Renovations" forum about my approach to a
partial renovation
. The approach will be as given below:
Wake up grass by applying 1lb of N/1k sq ft - Milorganite down - August 9
Triangle approach to handling weeds - I think the nitrogen is just kicking in, as over the past day or two, the grass growth suddenly spurted
Hit the front yard with Momentum 4-Score.
Wait for the cleanup of the weeds. Potentially hit with either Crossbow or Triclopyr if the Wild Violets and Plantains do not get nailed by the initial go of the 4-Score.
Wait about 3 weeks for the triclopyr to dissipate.
In the meanwhile, I can start to collect the things required to start the remediation of the soil to support a potential full renovation next year.
What areas get cleaned up, I will put seed down there to atleast get some decent grass there.