Hey All,
On my third neighbor helping them with their yard. He just got his results back. Please let me know what you all think when you can get to it.
It's about 35k sqft
Previously managed by landscapers
We live in a predominantly sandy area.
We are looking to kill weeds and address soil for a big fall overseed - he has irrigation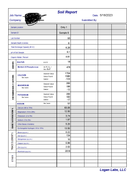 Thanks!