New poster, found this board, been reading a lot and really need help. Not sure where to even start but I got a real mess on my hands. Please excuse the length of this post if it gets to wordy.
Built a brand new house in 2017. Builder brought in fill and then hydro-seeded grass. I'm sorry I'm not expert and I don't know what grass was seeded but this is upstate NY Albany area. 1.5 acre lot and approximately 35000sqf feet of cleared land some of that is obviously the house driveway etc. The entire cleared portion where there is grass is covered by 36 in-ground sprinkler heads. The soil here is very sandy, doesn't retain moisture well as I think the water just runs through it so I water is daily, 8 zones, 18 minutes a zone.
This was my back yard when the grass came up this spring in 2018...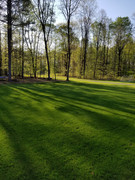 Now to the trouble at hand, from the minute we moved in in June of 2017, I've been faithfully using scotts and their entire program. Been spending probably upwards of $600+ a season putting on the crab prevention, the yellow lawn food, winterizer etc. Faithfully and religiously, without missing a single recommended application. The grass never thrived truly but was OK, the picture above was probably at it's best. As the summer wore on even with ample watering etc. the grass seemed to dull as the summer went on. In the spring I was watering every 2 times a week but deep water, 30 minutes a zone, but it continued to show signs of stress and I kept watering more and more. This was in late May, early June...as you can see the grass started to dull and patched started to appear, I tried spot seeing but zero grass would come up...
What I never put on because there was no indication of an issue is GrubEx or similar product. This summer, in August took a family trip and were gone 2 weeks, mid-late August. Came back to this...I want to caution that it didn't start out like this but VERY VERY rapidly in a span of about 3 weeks from a few small patches to daily huge pieces of the lawn dying off.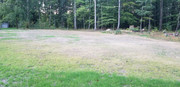 The back yard roughly 80% is completely decimated, about 25% of the front and sides are dead as well. I was shellshocked and didn't know what to do. I did poke around in the grass and it became very clear that this is a grub infestation. In one spot I found 10+ grubs in a square foot. Daily, more and more lawn was dying until in late September I had to do something and in a panic I threw down a significant amount of Bayer Advanced Grub Killer Plus. At this time at least several moles moved in, other disease like weird mushrooms and other crap sprung up like wild-fire. I don't know how effective Bayer was but the damaged stopped spreading, not sure if it's because it was basically October and grubs started to go into hibernation and stopped feeding and it being winter now, obviously the progress of this plague has stopped.
I don't know where to start next spring and thus my coming here asking for advice...I know I'm going to have to rip all that up, it's a significant surface area and I won't be able to do it by hand. I'm not afraid of hard work, part of me is pissed and embarrassed that my lawn looks like that in a neighborhood of million dollar homes. See attached picture before the devastation... I could hire this out but I take pleasure in working on my lawn so I want to try and repair this myself.
I've been reading a lot, spending time here as well as the websites of national lawncare product companies like Scotts, Jonhathan Green etc. I know lots of people hate JG but the reviews on their products appears to be somewhat positive. I've been a user of Scotts for probably 8 years going back to previous home and it's just OK. Problem is most of us layman don't know any better and use what's available. I'm not a lawncare professional, I'm trying to learn but clearly not putting down some form of grub control has done huge damage very quickly, so quickly in fact I had almost no time to stop the damage.
Where do I start, what do I do? I'm trying to spend these next few months going into the new year and eventually spring reading, learning as much as I can and putting together some form of a game plan. Help a brother out!