The playset in the backyard started rotting through so we had it taken down and the border and weed mat taken out.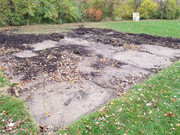 Then, we had a tree leaning over that was dying so we had it felled, and I put the kids to work cutting it up.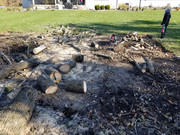 Its roughly 1000 SF and 6 inches deep.
A secondary objective will be to level the slight swales that pool water.
Part of me wants to go over the top and make this a play surface for croquet, which we play a lot of.
Either way it will be all blueberry kbg.
Plan is to grow from seed, applying seed a week or so after greenup.
A tertiary objective is to fill in the areas along the creek with hostas or other vegetation that will grow under walnut trees ok.. We have a lot of mature walnut trees and the grass never makes it back there. I blame the root competition more than the jugalone.
So I have to source some blueberry seed, figure out the best soil to bring in, and when to do so without tearing up my yard too much.
I'll use tenacity and all the usual tricks.