I applied another load of compost to the rear 'lawn' today.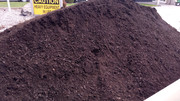 Between depleted neglected soil, dogs and 1/2 inch mowing height, the previous owner left lots of this. This is what i applied the compost to.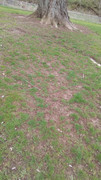 The TTF seed that I dormant sowed in January is just starting to sprout. We're supposed to get six inches of snow tonight, which will be good to gently soak in the compost.