I think I'm winning the weed battle. One month ago it took 22 gallons of Triclopyr to spot spray weeds. This week it took 8. The dandelions are gone, the chickweed withering, creeping Charlie turning brown, and plantains shriveling. I have been applying Milorganite/Milorganite imitation bag rate on a weekly basis and mowing about every other day. Front and back the lawn has really thickened up. The seed I sowed dormant has filled in quite a few bare places. In the front where I sowed a contemporary blue grass I see lots of spots of bluish grass coming in. In 8 weeks there has been quite a transformation. Last weekend I applied Stagreen Fast acting Gypsum at the high rate for the 2nd time. Lots of holes in the lawn and I hope to fill them in soon before I break an ankle. Here are some pictures.
This is the front today.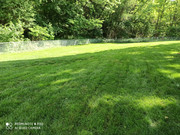 This the rear lawn. Lots of bare dirt showing. If I can keep the crab grass at bay, I plan to sow Mazama as an overseed in August. There is a lot of TTTF in the rear, I'm hoping it's not KY31.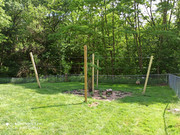 I set up an espalier system for the pear tree I chopped off earlier. It is sending out 'hundreds' of water spouts. I'll see if I can tame them and then graft known varieties. Including some perry pears. The espalier arms will allow me 14 varieties if the tree cooperates.