Background: Moved into this house in 2012 (house had 1 prior owner, built in 2011). Yard was likely seeded with contractors mix or simple northern mix. I have overseeded a few years back with a Scott's Sun and Shade mix, so right now the lawn is a good mix of bluegrass, rye, and fine fescue (with some nasty clumping tall fescue mixed in). I got really into lawn care last year and I came across this site. Thank you for all the information and insight. My previous practices were cutting the yard (mostly bagging) once a week with disregard to the 1/3 rule and spot spraying weeds when areas exploded in the yard. I have become more diligent with pre-emergent applications, fertilization, and reacting to what my yard is displaying. Last year I installed a 14 zone irrigation system, top dressed entire yard with compost to add OM, followed Milorganite holiday applications, and went through aggressive fall nitrogen regimen. This year I added a preventative Serenade regimen, conditioned soil bi-weekly with Kelp/Humic/SLS and have experimented with PGR and foliar iron applications.
Overall my current NoMix is probably one of the nicer lawns in the neighborhood due in part to a lot of the work I have been putting in over the last 1-2 years, but I want to take things to the next level. I will be renovating my front/side yard, deciding on a Bewitched monostand. I have read through several renovations threads on various sites and looked at previous years NTEP results, and the overall look, texture, and compact growing height appealed to me. The total area encompasses ~8000 sq ft of turf. Rough timeline as follows:
7/30: Glyphosate blanket app #1
8/5: Scalp mow and bag #1
8/7: Glyphosate blanket app #2
8/12: Scalp mow and bag #2
8/14: Glyphosate spot spray
8/15: Top Dress with top soil to level/fill low spots
8/16: Seed Down @ 3oz/k (w/ Soil Moist seed coat?), Roll, Tenacity or Scott's Starter w/ Tenacity (pending soil test results from Logan Labs next week), top dress w/ 0.25" peat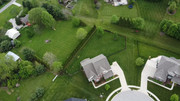 Arial shot from 5/22. All areas of the lot except for fenced in back yard will be renovated. Left side of picture (east side of house) basically gets morning and early afternoon sun. Rest of yard basically full sun throughout the day. Back yard is about 10k sq ft and, depending on results of this renovation, may be a 2021 renovation. I have a few test plots with other cultivars that I plan to try in back yard this year.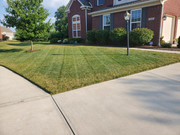 Front yard shot from 7/3. Yard looks tired around the edges, fescues/ryes drying out despite irrigation 2x/week. As is the case with a lot of developments in the area, I think the builders buried a lot of construction debris next to driveways and sidewalks (based on observations with screwdriver test). Although I don't want to disturb soil I may take blank slate as an opportunity to dig out some problem areas.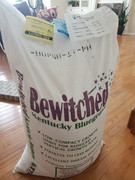 Seed on hand.
Certainly I am forgetting a lot of detail, but I will post pics of timeline events and progress.