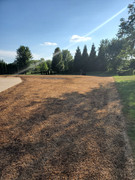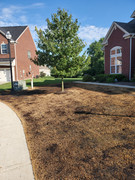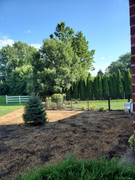 8/13 was seed down day. Got everything done: seed, starter w/ meso, rolled, 14 bales of peat, watered. Per my step tracker, it was my 2nd highest total ever recorded in the 3 years I've been wearing it (highest was a half marathon day). I was absolutely gassed by the end of the day. I will say it is strangely satisfying seeing the dirt washing down the shower drain after a hard day's work.
Biggest setback on seed down day was attempting to roll where I had brought in soil to try to level some low spots. I had watered the evening before to soften the soil and those particular areas were absolute mud pits. Quite a bit stuck to roller, so it was hard to get a good gauge of how evenly seed was distributed. Worst case scenario I will reseed those in a few weeks and try to hand water, one of the perks of starting early I guess.
I had to adjust several irrigation heads and am still finalizing schedule based on observed time to attain full coverage. Let the waiting game begin.