I decided to go ahead and buy the proplugger. It seemed to have good reviews, both on Aroundtheyard.com and at Amazon. It seems like a useful tool, I have a fair amount of smaller sized open areas. A year ago I posted this picture of two pear trees. They were planted close together. Somehow they ended up on the neighbors fence.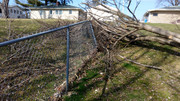 I topped one at six feet an then decided to see if I could salvage and renovate the tree.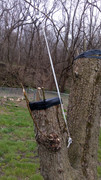 Yesterday I grafted 15 different varieties on this old tree which is being re-trained as an espalier. Somewhat like the cordons on a grape trellis.