Aparently with a waxing gibbous moon, photos taken at a certain time of day my rear lawn doesn't look too bad. It is coming along. Yesterday it got its first almost real mow. Patches of it look really nice. I put six yards of compost on the worst areas this week.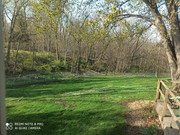 After putting DMSO in with the Tenacity last Sunday, I saw first signs of Trivialis colony collapse today. Some of the colonies are dried and make a crunchy sound when you step on them. Like somehow the water got sucked out of the cell structure. I'm not seeing signs of damage to the Mazama KBG. This weekend I plan to spray again using Tenacity, distilled water, DMSO, Non Ionic surfactant, and 1 tablespoon of Ammonium sulfate per gallon.
Disclaimer: DMSO usage is potentially dangerous. There are 14 pages and 261 search engine comments made about DMSO on this website. I read them all. Anyone else that might use DMSO should also.
(Does ammonium sulfate added to a herbicide mix improve weed control?
Ammonium sulfate (also known as AMS within the adjuvant world) can be quite useful in situations of chemical antagonism, such as when using hard water or when mixing herbicides that are antagonistic among themselves. Ammonium sulfate adjuvant can also be useful under stressful growing conditions, such as cold or droughty weather. For these reasons, several herbicides recommend ammonium sulfate adjuvant use within the label. Always refer to the corresponding herbicide label for specific rate recommendations).
https://www.advansix.com/ammoniumsulfat ... d-control/
,