Hey folks,
Back at it this spring. I had contemplated all winter on whether or not to tackle a spring renovation. Last year I began on in a much smaller section (1200 sq ft) off the front side of our house on May 17.
Last fall I started having dreams of trying to get the back lawn filled in so we'd have a larger enjoyable area. My wife really wants the front done, but I'm saving that for the fall. I learned a lot on last years spring renovation. I had high amounts of weeds all summer long (as expected). Most of which was crabgrass, and I used some Quinclorac which worked out nicely. By fall I had gotten into the aggressive nitrogen regimens and that is when things really started looking nice.
Fast forward to the past few weeks. The area I had in mind was 10,000 sq ft. It was really bumpy and beat up due to the construction. I started spraying with RU to kill everything off. I got in two nice rounds of kill and scalp. I found a gentleman who was willing to bring in 80 yards of top soil and grade it for a reasonable price so I bit the bullet. I purchased seed (Sunny Mix) from SeedSuperStore.
Last night I measured out my seed rate per 1k sq ft and had that all ready. This morning I was up at 0630. I mixed the seed with SoilMoist Seed Coat.
Seed spread
Starter Fertilizer
Sprayed Tenacity on all sections
While I was spraying Tenacity my father had called and asked if I wanted cheap labor, and I took him up on it. So he came up and helped throw down straw. At one point my daughter came out and helped. I thought she'd peter out, but she stayed there right with us. I was very happy.
Later this afternoon my wife and I drug out all the timers/hoses/sprinklers and got everything connected and tested. 10,000 sq ft off and running. I have same expectations as last year only on a much larger scale. I told my wife it may look shabby until we get into the fall.
My dad and my daughter (in the background) helping get the straw down:
From the back looking towards the front and side: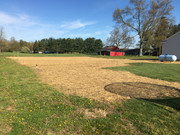 Right outside the garage looking out: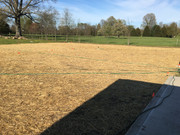 Last year's Spring renovation which was the catalyst for today: