Greetings members, this is a post I've been meaning to create for a while but it kept slipping my mind. I've wondered what type of tree this is ever since I moved in to this house a few years back.
First, a view of the full tree. I would guess height is roughly 40'-50'. Almost as wide, too.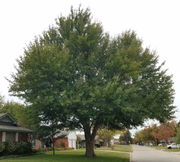 Next, bark. Bark is relatively smooth. Estimated tree age is ~50 years. House was built in '62, but your guess is as good as mine as to when it was planted. I would assume it was relatively soon after the house was built.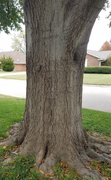 Finally, an example of leaves from clipped from the tip of a branch. Paint stirring stick for size reference. Note - the tree does seem to produce acorns, but very few of them. You can see an acorn "cap" (whatever they're called) here.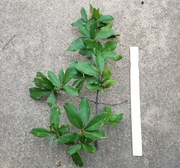 Thanks in advance for any input. Let me know if I can provide additional info/pictures.