My beloved Laurel Oak (I think, at least based on discussions here:
viewtopic.php?f=18&t=24599
) has been having the challenge of its life over the last ~18 months. A summary below:
April 2020 - Tree sprouts leaves as expected. Looks great, I pruned some of the inner branches the prior fall.
May 2020 - Tree begins to drop a significant amount of leaves. I discover it has a pretty severe infestation of scale insects.
May to Sept 2020 - I contacted an arborist about the scale infestation. He applies a topical spray & root soak insecticide. He follows up again at the end of summer. It kept the leaves it had, and I think all is well.
October 2020 - Historic Ice storm - at least 1.5" of ice accumulation on all surfaces. Trees still had leaves, but the oak did pretty well. Lost a few branches near the top. This ice was absolutely devastating to other trees.
February 2021 - Historic cold front - reaching temps around -20°. I didn't think much of it at the time, because the tree had dropped all leaves.
May 2021 - The arborist comes back to apply the final round of root soak & topical spray. He only leaves an ominous note:
"Scheduled to apply final scale treatment today, but did not perform any service. I did not want to stress the tree further. Cut back dead branches, may treat next season if tree survives".
As we near the end of the growing season, you can see the tree sprouted plenty of leaves, but still has a significant amount of dead growth tips. I have a tree service scheduled to trim off all dead tips on Wednesday. The amount of scale infestation is as of yet unconfirmed. I have not climbed the tree to investigate yet.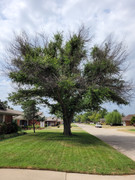 However, what concerns me now, is the majority of the surface roots seems to be losing their bark. They spots bellow make a hollow sound when you knock on them. The bark in these spots can easily be pulled away by hand.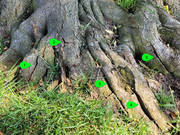 In the 7 years I've had this tree, I haven't observed the root bark falling off before. Unsure if this is merely "part of the healing process" or, the beginning of the end. Hopefully, just a side effect of the extreme cold.
Does anybody happen to know what the loss of root bark may mean?
As always, I appreciate the feedback of the ATY Community!
PW405