I started this bed last fall. It's a combination of roses and tree peonies.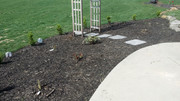 I edged it last fall and planted the green mountain boxwoods. I started a bunch of winter gem boxwood cuttings last fall to plant in between to eventually form a solid, formal, castle-shaped boxwood hedge. I plan on putting a hedge around the front as well, but I don't have any boxwood cuttings ready to transplant yet. I transplanted some boxwood in late February and lost some of them naturally as it was pretty early.
I planted the tree peony on the front left last fall, which has taken off well this spring. On the right is an old tree peony that was mature in the 1960s, which I transplanted from my wife's grandmother's estate last spring. I moved it twice before it ended up in this spot, and it survived to this spring. This peony gets less sun than the other. It got no care over the last 10-15 years. It is quite a plant! I'm really hoping it kicks in, but for now I'm just happy it's leafed out.
I have a pink/white tree peony, and a white tree peony (pretty sure that's the color.
This spring, I used the grass in the bed to use as plugs for the turf renovation while waiting for my shipment of David Austin roses from TX. I'm glad I called to inquire - they had already shipped and arrived 2 days later. As such, I only had a day to apply glyphosate to remaining vegetation in the bed, and it didn't kill everything prior to planting. I planted the bare root roses the day after they arrived. I dug out the holes very deep and wide, then mixed peat moss, composted manure, and my native silty clay soil together. Climbers went on the southern side and in locations to help shield the tree peonies from the punishing afternoon sun.I put the bud right at the soil line and thoroughly watered. We got a cold snap and frost one morning. A few days later, I top dressed with 4-6" of inexpensive mulch, watered, and hand packed it all down. I'm watering them daily.
I installed the arbor and put 2 don jun climbing roses at different distances from it's base. I put in the stepping stones. The idea is that I'll get more uniform blooms on the arbor when it matures. The research I did shows mixed reviews of don juan climbing roses getting tall in central Indiana. If I can get 7 feet I'll be in good shape, but that's optimistic I think. Central Indiana can be awful for roses - often called the "zomie zone" by the Indianapolis Rose Society I follow. We get late cold snaps This is a windy location as well - at least until the evergreens and boxwood hedge I planted break it up in the years to come. The location does, however, get good sunlight and the plants will get babied.
The David Austin roses I have:
Munstead Wood (small - crimson)
Claire Austin (climber - white)
Olivia Rose Austin (medium - pink)
Gertrude Jekyl (climber - pink)
Falstaff (small climber - red)
Susan Williams-Ellis (medium white)
Don Juan Climbing Rose (red)
Anyways, I'm very excited to see how this grows in. I still have work to do. Boxwood hedge to be planted, a few more roses to fill in the empty spaces, and some sort of support structure for the climbers in the back.
So far everything is showing growth! I've watered them daily, and applied a little bit of liquid fertilizer a few weeks after planting. Everything is responding well so far!