Big ask here, but if any cares to read all this and has any thoughts, please lay them on me. I'm in a tough spot on a lawn I'm working on and I need to act. I'll give the details and my plan.
Primary problem/cause: We're still trying to figure out irrigation on this property, and its hitting 90's. They use oscillating sprinklers in 4 zones.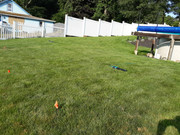 I did a couple can tests and they're getting just shy of a 1/4" per 30 mins. 2 hrs total to get 1/4" everywhere, running each sprinkler one at a time. Some spots get a bit more, but I'm playing to the weakest link.
I've been monitoring soil moisture by working a screwdriver down about 4-5" and feeling around, bringing up a bit of soil and simply feeling it - every couple days. I thought we were doing alright just 2 days ago. Went there today expecting it to be a bit thirsty and seeing some improvement on fungus. Nope. Signs of drought stress popping up, and still fighting red thread, dollar spot, and possibly something else; looks worse. I ran their irrigation for 1/4" and had to go.
What I'm seeing: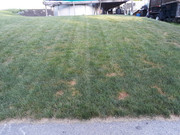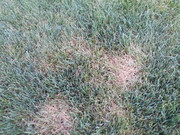 I did a curative azoxystrobin app about 10 days ago.
My initial suggestion was to put down a 1/2" every 3 days and monitor things. Not gonna happen. They'd have to be there for 4 hrs to run that with their current system.
So im now suggesting we run a 1/4" irrigation every 2 days, while we monitor, and while constantly reminding them that this might perpetuate problems. It's more frequent than I want (disease) and I'm worried the soil moisture will bottom out on us by not going deep. But that's the deal at the moment.
I'm working on changing that...
Other factors:
The lawn is sloped, gets crushed by sun most of the day, and has a very low TEC.
They recently cut it from 5-6" down to 2"...
Their mowing habits just stink. I've told them 4". It's back up to 3" now (they won't do 4) and they're bag mowing due to fungus.
It's been 30 days since their last milo app.
So, spreading fungal disease, probably nitrogen deficiency, and growing drought stress. I feel like I'm going down with the ship and I just want to help them.
This seems like a spot that has no great answer, but this is my plan:
Tomorrow. 5am.
Lay down the 2nd azoxy app (10 days from the 1st app). Apply SLS.
Stay for the 4 hrs to give them a solid 1/2", regardless of the pittance I gave it today. We may have some rain coming in 2 days. I'm hoping this will equate to an approximate inch, at least enough to get out of this tight spot with some deep saturation in the next few days.
I'm thinking of also doing 1/2 rate of BSF as well. Some nitro for the dollar spot and thread, and for general health. My reservations/thoughts on BSF:
1. dont think I want to force growth at these temps, but maybe 1/2 rate is a fairly safe middle ground. Better than low to no nitrogen in the soil, right? I believe I've read enough here to feel safe with this choice.
2. I'm not 100% convinced there isn't a fungus in the mix that nitrogen could exacerbate. Anything in the pics raise anyone's eyebrow? I know pics dont make for easy diagnosis.
If not maybe I just have to act on what I can actually confirm in terms of fungus and do the 1/2 rate BSF.
3. BSF on drought stressed turf should be ok, right? Like gently waking up dormant turf? Or not quite analogous because the grass isn't dormant, but teetering? Not great, right?
That's about it I suppose. Any thoughts? Am I leaving out anything important considerations?
I know long term (probably 4-5 days from now actually) I have to try to get them watering correctly, but for the situation at hand right now, does my thinking make sense?
Really agonizing over this.
Thanks.