For the past few years I've had trouble with about a 150 sq ft area of my northern mix lawn. The area tends to dry out quicker than its surroundings, leading to very visible signs of drought stress. Last year it looked like this from mid June through July: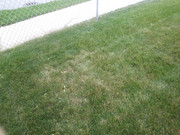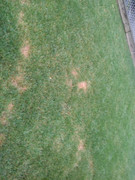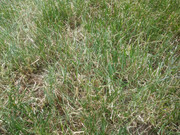 I thought these spots were toast but they managed to bounce back pretty well; didnt need to spot seed.
I think I'm improving on my watering routine. I'm -slowly- getting a better feel for how the soil holds/drains. I did the tuna cans thing to figure out my timing/water output. It's a pretty sandy soil with decent OM. I'm shooting for an inch of irrigation every 5 days followed shortly by a serenade app. I'm at 3" HoC, and rising.
We've only really hit the high 70's into low 80's so far, and the area in question is already showing signs of stress. The surrounding areas are holding up fine.
I'd say I have moderate compaction throughout the lawn. I'm doing SLS twice a month. I've noticed the problem area is particularly hardened. The area is also about 8 feet from a big thirsty maple (now scheduled to be removed) on the public sidewalk. I posted about the maple last year, and based on suggestions I looked around and found fibrous roots less than 2 inches down, but I'm still not sure if they extend throughout the entire affected area.
I guess the maple is likely to be a problem for the time being, but I think the compaction might be a big factor too.
I'm trying to figure out a plan to best address the problem.
A few things come to mind. Would really appreciate feedback.
Are there any negative consequences to upping the frequency of SLS apps to 2-3 times per week in this problem area? Or using a slightly higher application
Rate? Or both?
Might this issue warrant some more investigative digging?
If so, what should I be looking out for, aside from roots and rock I suppose?
Are there cases when a soil isn't...umm...fully compacted , but might have some kind of thin hardened top layer, like a crust, causing water to just run off?
Thanks a bunch.