I have a 5 acre lot with about an acre of grass around my house.
I fertilize it in the spring and have put down Milky Spore to kill the grubs (with good success).
But I don't water it as we are on well water.
Last year, I had a bad crabgrass infestation. I applied Tenacity this Spring and it seemed to help.
But with the hot summer, the crabgrass is back in the sunny areas: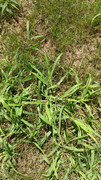 But the grass is fine in the shady areas: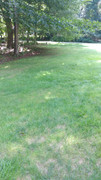 Any thoughts on what to do next to get rid of the weeds in the sunny area?
Thanks