Hi Folks,
I used to be a lurker on the forums for a major part of last year and this year, finally, bit the bullet and became a member. Read through a lot of really informative discussions and based on those discussions took on the task of redoing my backyard last year.
I had put in the time to clean up the yard of all the weeds and got a soil test done by the PSU Extension and based on that put lime down to reduce the acidity, put seed down and starter fertilizer to get the lawn going again.
This is what I had to show for it till the second/third week of July 2019 for it.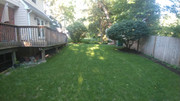 After that I have no idea what happened, but the yard just completely died, either it was the peak summer/dry spell for 2-3 weeks that just completely killed the grass. I was planning on following the nitrogen regimen of applying about a pound of nitrogen starting easter, memorial day, independence day and labor day but the labor day one never happened. My guess is that the nitrogen application for the july 4th timeframe probably just completely ovewhelmed the grass.
Anyway, what has happened has happened, so here I am again, starting from scratch.
My plan is quite the same as last year, which is kill the weeds/grass the whole nine yards. This time, I have covered the grass with 6 9x9 tarps in order to completely kill anything growing. Last year I completely tilled the soil as there was way too much debris in the soil(glass pieces and stones). I did not use chemicals as I have small kids and also a dog. I'm not against using chemicals, but want to avoid using them if I can. If I do go down the chemicals path, would a generic glyphosate be enough to nuke everything and start from scratch or do I need to buy specialty chemicals. I do have a siteone close by that I could go to if there is something that needs to be purchased.
The yard is covered with these weeds all over the place.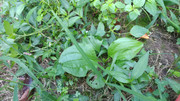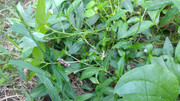 I will wait till about end of this week to see how the tarps have fared in cleaning up everything and then decide if I should spray the remainder or cover it with tarp and wait for nature to take its course. Once everything has been nuked, I will rake the lawn up and put seed, starter fertilizer and seed aide to allow tackiness in order for the seed to take.
My lawn size is not too big, about 1400-1500 sq ft.
My plan is to use the following mixture of seed, alongwith a 10-6-4 starter as the soil report from last year suggested a mixture along those lines.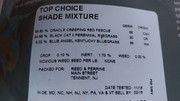 Most of the yard is in a shady spot with some parts getting more sun than the others, that's the reason I went with a shady mix of grass rather than one that requires full sun. Based on my area and the transition from 6b-7a, what type of seed would be good to use here? I have given the combination I used last year. Till the time the grass was growing, I was keeping it quite high, about 4 inches or higher to minimize the weeds and that was working very well.
Any pointers on what I should do different than what I have listed above would be welcome.
Also, if anybody has not mentioned this, Andy is a god!!!