I moved into my current home last year in September, and it's my first St. Augustine yard to maintain myself. I've had Bermuda lawns for the past 15 years that I maintained well due to the advice on this forum, but I'm finding the transition to St. Augustine to be much trickier that I planned. Long story short, I think I have at least one fungal issue that I need help identifying and treating. Full details, history & pics are below.
Issue #1 – Possible take all root rot in backyard. Prior to last week when I had them installed, there have never been gutters on this house. In the backyard there are patches of thinning turf to bare soil where most of the roof rain runnoff landed. It was pretty much perfect conditions for some kind of fungal disease. Gutters are up now, but it looks like the fungal issues are spreading, so I would like to treat, but don't know the best course. I did some research and am pretty sure it is take all root rot, but I'm hoping someone can confirm and advise.
Issue #2 – I've also noticed that in pretty much all areas of the front and back yard there will be patches super green thick grass popping out of the meh looking St. Augusting around it. With the exception of the take all root rot issues described in #1, most of the turf looks ok. Not particularly spectacular, but not any substantial yellowing or thinning. Just looks sad next to the super thick patches. I'm thinking this is also some kind of fungal issue, just don't know what.
Location: North Texas (Plano)
Turf: St Augustine – Appx 3,750 sq ft total (2,500 sq ft in front yard, 1,250 in backyard)
Soil: Collected sample, haven't had time to mail it off yet, but it's clay, likely with a high ph and super high calcium content that will throw everything off.
History: Moved in at beginning of September 2019. Switched sprinkler system to water ½" 2x per week in the morning vs 3x a week at night which is what it was set for when I moved in. Turned sprinkler system off for winter in early November, started it back up a couple of weeks ago (had been getting 1" of rain per week before then). Applied halts (pendimethalin) at bag rate at the beginning of October 2019 and again at bag rate in Mid-March 2020. Mulch mowed half the leaves in the fall, bagged the rest. Have been mowing at about 2.5" whenever it needs it. Took soil sample on 5/5/20 (still haven't sent it off), dropped 32 lbs of Milorganite on 2,500 sq ft front yard on 5/9/20 (bag broke when I was organizing the shed and didn't want to be smelling Vitamin M in there for the whole summer).
Other Considerations: Most of the yard is pretty shaded, but gets just enough sunlight for St. Augustine. Turf has to compete with six mature trees for water, nutrients & sunlight.
Sideyard (you can see both the super green patches and some additional bare spots where I think take all root rot has hit.)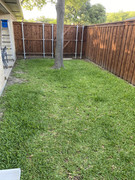 Main Area where I think I have take all root rot