Good morning!
First off, long story long-I am sorry. I'm always going to post and then something happens or I find a reason I should wait. I think I waited too long to this time.
So I've nailed it down to either fungus (too much water, too much shade), bad (old) BLSC/KH,(or too much of it, I knew it was a heavy dose), too much fun "stuff" on it (see below), grubs, or something else. One of those. Anyway I'm assuming this is not what you guys mean when you talk about it going dormant. All was going pretty well considering the mistakes I made last year. (mowing too high, not winterizing).
I was all set to post about my new soil tests when this happened in the shady corner spot.
It's dying and spreading.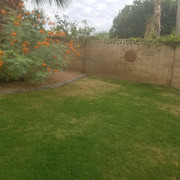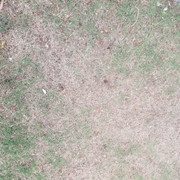 Watering:
I was already struggling with dialing in irrigation, I've been watering according to the weather and look of the grass and thought it was going pretty well considering shade and slope. I knew this would be a problem but thought I could handle it, it's a tiny lawn. When the temps are mid 100's with no humidity I'm watering ~every 2-3 days (blue/brown spots sometimes more with the hose). When it's over 110+ a little more. Honestly things were going well. I guess I just don't know what to do with high humidity, temps and shade and well...rain. 'm guessing overwatering and piling on all kinds of things in a burst of "love" is not the answer.
There was also leak in my system that had me confused - flooding more quickly in a low spot. Can test confirmed something was wrong but I didn't know what until the leak in the PVC broke the surface. Since I fixed it this patch is getting more water (and shade actually). Screwdriver goes all the way after 2 days. In the less shady parts it only goes 2-3 inches after a couple days.
Seriously I don't know how people water every single day around here. No shade I guess. I forgot Phoenix can actually get humidity and rain and it caught me off guard. But we're back to scorching now.
Here you can see the strip that needs water The front spots are from dogs and used to recover pretty quickly.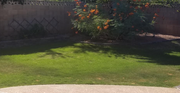 This pic is since things went very south. Now I'm afraid to touch it but yes I watered that strip.
Mowing
At 1" with Fiskar reel. Every other day before crash and burn
Stuff
600-700sf--Tiffway 419
4/10/21
10 lbs milo
Zinc 2 tbs 20 mule 2 Tbs
4/26
10lbs milo
5/25
~13lb milo
6/11
BLSC/KH 2 oz each
(2 years old with yucca)
Molasses 1 big TBS
4 lbs. Worm castings
5lbs Corn Meal
6/16 21
Soil Sample-->Test
7 lbs
Milo w/ Boron and Zinc
No smell yay!
Sprinkler leak fixed
6/27
10lb milo
Nice big drink of water
A few days of Monsoon.
Death and discouragement
Some of the holes you see are soil sample holes, and some are birds (I feed them) digging at what I don't know. I did find one grub once but there are no worms (yet!) As I'm watching it die by the minute I'm wondering what to do next. After I killed my last bermuda I switched to St. Augustine and kept it alive for 2 years before I moved. It's reportedly still going strong. This yard now has close to the same shade. My hubby will not be happy! Can I save this one? I'll stop loving it at the wrong times I promise.
If you read all this thank you. If you have suggestions bless you!