We are just now awakening with a few sprouts of grass appearing mostly in the mulch we put down trying to smother it. Of course. This is our first spring at a new house for us, so my wife has been enormously busy landscaping. We're getting rid of roughly 3/4 of the turf and going with ground cover (Asiatic jasmine), mulch, and some hardscape pavers and rock. The main plants are in, and everything is laid out. Grass should be all in by tax day, and I'll spray for weeds. Previous owner apparently didn't have a handle on weeds, so I'll hit it with atrazine spray.
This pic looks like desert, but to the left is dormant St Augustine and to the right of the arc of plants is mulch.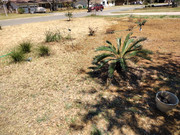 Most of the St Aug in front will be converted to jasmine.