At first, I didn't read that as "dog" and wondered how long the original post would last.
Casey's 15. His hobbies are napping, eating, playing, eating, reminding you about eating, eating, and searching for friends among visiting animals in the yard, including foxes and rabbits.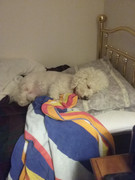 Riley is 6 and has quite a bit of Maltese in with the Bichon. His hobbies are mostly being playful and affectionate and his favorite places are in your lap and right at that spot on the couch where he can observe three neighbors' backyards and their dogs.