Folks, I couldn't recall the other stuff I did back in 2009 when I renovated my lawn. Yesterday and today, I completed the following:
- dropped seeds
- dropped starter fertilizer
- dropped peatmoss
- rolled it
I forgot when to do the next fertilizer application and how much. I still have starter fertilizer left as well as 50 lbs of urea that I haven't opened yet. I do remember that when grass blades reaches 3 inches, it can be mowed.
This is me manually rolling the lawn today. Really thankful for the rain, we got about a little above half inch of rain. I'm pretty sure seed to dirt contact is 99.99%.
Any help would be greatly appreciated!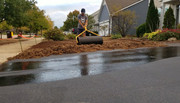 Thanks in advance!